This focused issue, guest edited by Dr. Michinori Ogura and Dr. Pier Luigi Zinzani, aims to cover overview papers on T-cell lymphoma, as well as a wide variety of materials with respect to the basic and clinical research of T-cell lymphoma.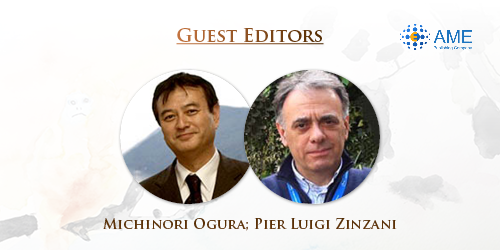 Michinori Ogura, MD, PhD(left)
Director of Department of Hematology, Head of Department of Clinical Trial Management, Tokai Central Hospital, Kakamigahara, Gifu, Japan
Dr. Ogura's research interests include therapeutics of malignant lymphoma and leukemia (chemotherapy, antibody therapy, stem cell transplantation), development of therapeutics and new anticancer agents for hematological tumors, clinical oncology and cell biology of hematological tumors. As well as being influential member of many national hematology/oncology societies, he is an advisory board member of the Ministry of Health, Labour and Welfare Japan at the Pharmaceutical Affairs and Food Sanitation Council, Pharmaceuticals and Medical Devices Agency and a past member of Oncology Drug Advisory Committee of the Ministry of Health and Welfare Japan, and has been widely published in international literature of more than 100 medical publications. He has been a core member of the Lymphoma Study Group of Japan Clinical Oncology Group for more than 20 years.
Pier Luigi Zinzani, MD, PhD(right)
Professor of Hematology, Head of Lymphoma Group, Institute of Hematology, "L. e A. Seràgnoli", University of Bologna, Bologna, Italy
Dr. Zinzani attended the University of Bologna (specialty in Hematology with honors) and was awarded a "Post-Doctoral Fellowship in Medical Oncology" released by the "Roger Williams Cancer Center" of Providence (USA) in 1989. He is member of several scientific societies as Italian Society of Hematology, Italian Society of Experimental Hematology, American Society of Hematology and American Society of Clinical Oncology. He is Principal Investigator of more of 150 clinical trials. Currently, Dr. Zinzani is Associate Professor of Medicine Hematology and Chief of the clinical and translational program of the Lymphoma Unit at the Institute of Hematology and Medical Oncology "L. e A. Seràgnoli" University of Bologna, Italy.