This issue, guest-edited by Dr. Astrid Pavlovsky, aims to provide a significantcontribution to the ongoing understanding of diffuse large B-cell lymphoma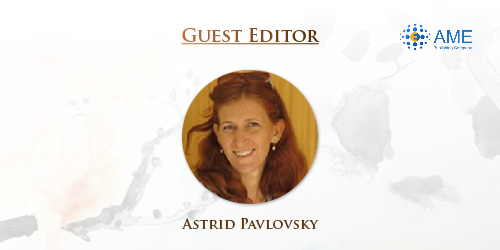 Astrid Pavlovsky, MD
Medical Director Pavlovsky Center for Hematology Buenos Aires, Argentina
Since 2003 she is working as a staff in the onco hematology department in FUNDALEU where she also participates in different clinical investigational trials as principal investigator or co- investigator. She is also Medical Director of an outpatient clinic dedicated only to hematological patients.
Since 2005 she has been an active member of GATLA (an Argentinean cooperative group) and is currently the Academic Secretary and Chairman of the Lymphoma Study group. She is involved in several educational activities including workshops and university courses. Since 2011 she is involved as a speaker and discussant in the European School of Oncology (ESO) e-grounds for on line education and has recently joined de Lymphoma Hub to promote hematological knowledge. She received the certificate of Competence in Lymphomas from the ULM University in Germany in 2016.
In 2017 she is being part of the Advisory board of the International Congress on Malignant Lymphomas held in Lugano, Switzerland.